After an impressive five wide receivers were taken in the 1st round of the 2021 NFL Draft, gamers around the world are anticipating the Madden 22 ratings for rookie wide receivers, which are scheduled to come out July 26th.
Below are five guys that I anticipate having the highest ratings on Madden based on their ability and presumptive role on the team regardless of where they were taken in the draft.
Ja'Marr Chase (Cincinnati Bengals): 77
Ja'Marr Chase was an incredible wide receiver prospect coming out of LSU. It is no shock that he was the first wide receiver taken at 5th overall.
In his second season at LSU, he racked up nearly 1,800 yards receiving and a whopping 20 touchdowns with no one else than his current QB. He is a superb route runner, has great hands, and has great YAC ability.
Despite the Cincinnati Bengals lacking talent collectively as a team, Joe Burrow showed flashes during his rookie year, while Tee Higgins and Tyler Boyd showed out.
Due to the productivity of Higgins and Boyd, I see Chase having a great shot on a lot of one on one opportunities. The biggest question will be the health of Burrow coming off a torn ACL and the offensive line.
If they give Joe enough time to scan the field, I anticipate Chase having a productive rookie year with his former quarterback, which is why I am predicting a 77 overall rating.
Elijah Moore (New York Jets): 75
Coming out of Ole Miss, Elijah Moore showed flashes of brilliance with his lightning-fast speed/quickness. Despite being passed on until the early second round, he has the ability to surprise a lot of people.
Already in the New York Jets' minicamp, there have been reports of how impressive he has been. If he can form a connection with fellow rookie quarterback Zach Wilson, I could see Moore having a solid rookie campaign. After all, he does look like the team's #1 wide receiver given Jamison Crowder's age and Corey Davis' inconsistency in the NFL thus far.
The main thing that I anticipate holding back Elijah is not only his lack of experience playing in the NFL but the entire offense. He is entering a situation with a rookie QB and a first-year defensive-minded head coach.
I am going to give him a 75 overall rating for now, but it will be interesting to see how well he can perform in his first year.
Amon-Ra St. Brown (Detroit Lions): 74
Amon-Ra St. Brown was an under-the-radar type of receiver coming out of the draft. At USC, he racked up 178 career catches, 2,270 yards receiving, and 16 touchdowns. He was not taken until the 4th round (112th overall).
None of his intangibles in terms of size, speed, etc. stand out, but his route running is superb. I anticipate St. Brown surprising a lot of people this season with Jared Goff at quarterback. The Detroit Lions do not have any expectations whatsoever, which could end up playing out in their favor.
Goff can play free football and sling it to his wideouts without the pressure he faced on the Rams. Brown's counterparts at receiver are decent in Tyrell Williams and Breshard Perriman, but neither one has really stood out as a true #1 receiver thus far in the NFL.
This is St. Brown's chance to really take control of the wide receiver core and show the entire league how big of a mistake everyone made by passing on him.
DeVonta Smith (Philadelphia Eagles): 74
DeVonta Smith is a guy who has huge potential coming out of Alabama. It is no secret how the Philadelphia Eagles feel about him as they were willing to trade up to select him 10th overall.
Last year with The Crimson Tide, Smith caught an incredible 117 catches and 23 touchdowns while racking up 1,856 yards. Smith is a guy who truly pops out of tape. His release off the line, amazing hands, superb catch radius, and downfield speed are just some of his great attributes as a wideout.
The only thing that could limit DeVonta's productivity this year is the scheme he is playing with. First-year head coach Nick Sirianni is an unknown right now. My guess is that he will try to lean on the run game and Miles Sanders, especially since Jalen Hurts is entering just his second year in the NFL.
If Smith is able to get enough opportunities, however, I could see him breaking out and even potentially winning rookie of the year.
Jaylen Waddle (Miami Dolphins): 72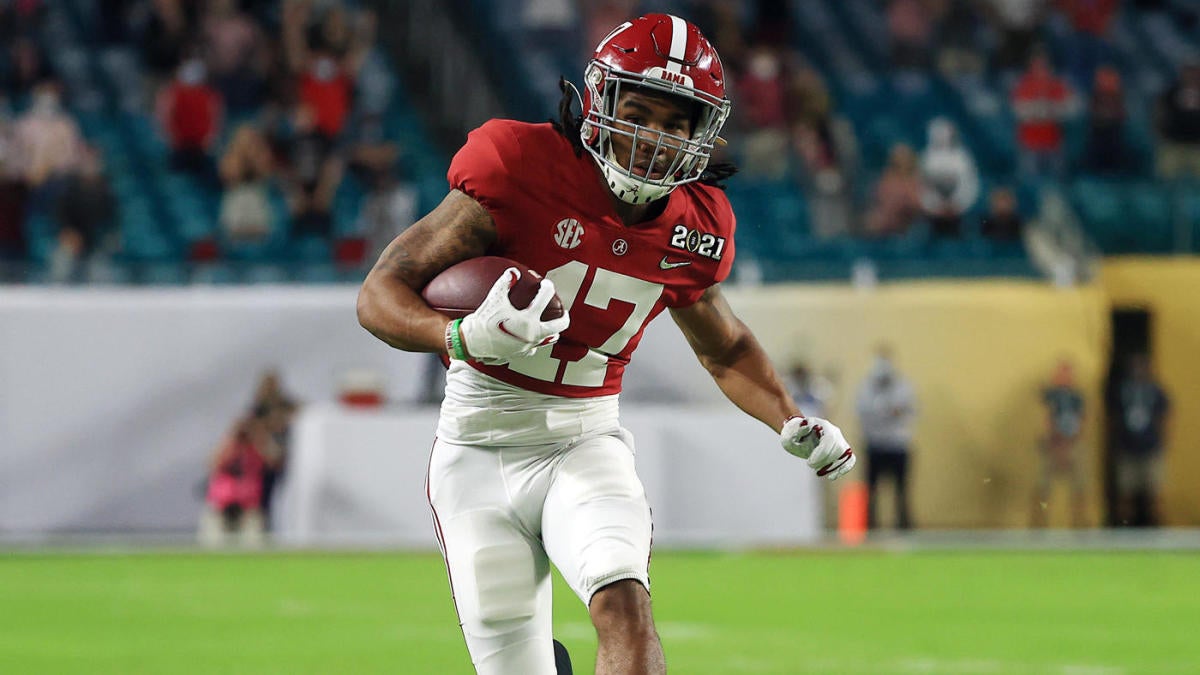 Jaylen Waddle is another guy coming out of the draft that pops off the tape. Coming out of Alabama, one could argue that he was the even more impressive receiver between him and DeVonta Smith. After all, he averaged 21.1 yards per catch which is an incredible stat. If he had not gotten injured, he might have been taken even higher than sixth overall, which is incredible to think about.
His lightning speed and run after the catch ability have drawn comparisons to Tyreke Hill, which is saying something in itself, considering Hill may be the fastest human on earth.
One thing that could hold Waddle back, however, could be current quarterback Tua Tagovoiloa. Tua showed some nice productivity in his rookie year for the Miami Dolphins, although he did struggle with the deep ball.
If Waddle is going to put up some nice numbers this year, Tua will have to be accurate while targeting him. Otherwise, there is nothing Waddle will be able to do no matter how many corners he beats off the line.
---
Join our Discord
to leave a question or comment regarding this article. We have sports fans talking betting all day — every day! JOIN THE DISCORD NOW AND QUALIFY FOR PRIZES & BETTING SWAG!
---