Just like the Division Series Program that was dropped recently, the Championship Series Program has been released. This program drops the best players from the series with a new card.
With the program only having four possible teams to pick from, there were only five cards released. Let's look at their attributes as well as whether or not they will hold any value.
Tyler Matzek
The first card in the program is 98 overall relief pitcher Tyler Matzek from the Atlanta Braves. This card is built off of the perfect two innings Matzek threw in the series-clinching Braves victory over the Dodgers. One of the best relief pitchers in the playoffs, Matzek is a lefty who has a solid four-pitch mix. He throws four-seam, slider, curveball, and cutter.
One of the best things about this card is his per 9's. He has 124 H/9 and 125 K/9, making opposing players have smaller inner and outer PCI sizes. He also has decent velocity, with his fastball getting up to 97 mph. If there was one negative to this card, it would be that he does not have a pitch that runs to his arm side.
Brusdar Graterol
The next card in the program is another relief pitcher, with 98 overall Brusdar Graterol from the Los Angeles Dodgers. During the Championship Series, Graterol threw 4.1 innings and only allowed one hit without walking anyone. Graterol is a flame thrower, who has a four-pitch mix of sinker, slider, four-seam, and cutter.
If you played the game last year, Graterol had a future stars card that was eerily similar to this, that was a solid bullpen option for most of the year. His per 9's are solid, with 123 H/9 and 107 K/9. The one negative to this card would be his control only getting an 84, making him a little tougher to throw with using pinpoint.
Rafael Devers
The next card may be the best in the program with 99 overall third baseman Rafael Devers. This card is based on his grand slam performance in the Championship Series. This man's hitting stats are great. He has 117 contacts and 125 power against righties, with 119 contacts and 108 power against lefties.
Devers also gets first base as a secondary, with diamond defense, he becomes an extremely viable option at either position if you are a fan of Devers' swing. The only real negative to this card is the 63 speed, however, at the two positions he plays, it is not all that important.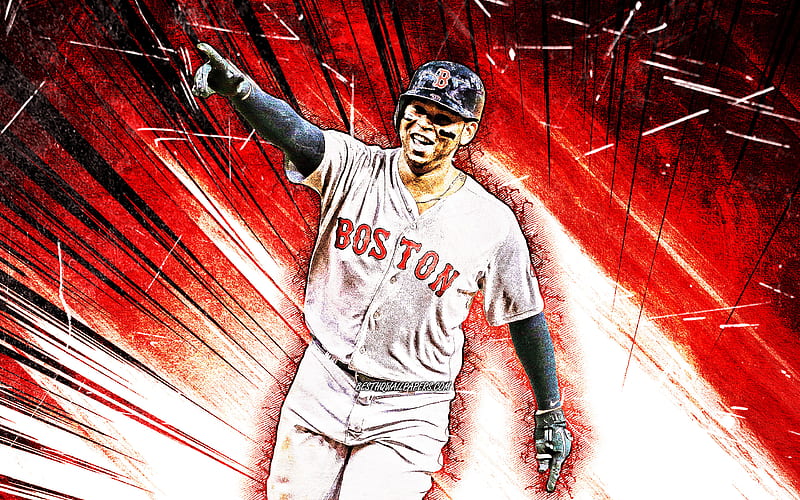 Yordan Alvarez
The next player in the program had one of the most clutch performances in a series-clinching game, 99 overall left fielder Yordan Alvarez from the Houston Astros. In the clinching game against the Red Sox, Alvarez went four for four with three extra-base hits. He went on to win the ALCS MVP for his performance.
Alvarez's hitting stats read 113 contacts and 116 power against righties, with 125 contacts and 120 power against lefties. Alvarez has reverse splits, meaning he bats left-handed and hits pitchers who throw left-handed better. The only real issue with this card is his defense, only getting a 75 rating makes him not so stellar in the outfield. A very solid addition to a bench though, especially if your opponent decides to go to a lefty out of the bullpen when he sees Alvarez coming to the plate.
Eddie Rosario
The final card in the program is 99 overall left fielder Eddie Rosario from the Atlanta Braves. In the Championship Series, Rosario recorded 14 hits and nine RBI's to help lead the Braves past the Dodgers. Rosario would go on to win the MVP for the NLCS after his performance.
Rosario has great hitting stats, with 125 contacts and 120 power against righties, with 125 contacts and 113 power against lefties. Rosario is another card in this program that could instantly make everyone's lineups. He has a solid defense, 85 overall defensive attributes, with a solid reaction of 89. The only real negative to this card is his lack of speed, which is not completely necessary at a corner outfield spot.
Overall
This program is awesome. All five of these cards could be put into competitive lineups and be extremely useful. The only real thing this program was missing was a starting pitcher, however, when you look back at the Championship Series, there was no outstanding starting pitching from any of the four teams. Another great thing about this program is that it is another completely free program that just takes a little bit of grinding.
As the game cycle is getting closer to running out of content, there will be less to talk about at some point. However, in these next couple of weeks, there is a ton coming. Next week we will get the fourth team affinity, as well as, new ranked season rewards. Make sure to check in at https://esportsallstar.com for all your esports news. Happy Grinding!
---
Join our Discord
to leave a question or comment regarding this article. We have sports fans talking betting all day — every day! JOIN THE DISCORD NOW AND QUALIFY FOR PRIZES & BETTING SWAG!
---