Fresh off of a massive rebuild, the 100 Thieves VALORANT squad has officially secured themselves a spot in the NA Stage 2 Challengers.
Comically titled "Asuna Will bang Derrek and Stellar" by fans online, the new 100T lineup was built around star player Peter "Asuna" Mazuryk. While the original roster was constructed around former Team Liquid and Rogue CS:GO professional player Spencer "Hiko" Martin and underwent multiple rebuilds with him as the focus for nearly two years, an abysmal VCT Masters and NA LCQ run forced 100T Founder and CEO Matthew "Nadeshot" Haag to seriously consider the future of 100T VALORANT. 
After deciding that the 32-year-old CS:GO veteran was no longer the best focus of the organization for the coming years, 100 Thieves opted to rebuild around 18-year-old star player Asuna. Hiko officially retired from VALORANT on April 12th, and 100T signed him as a content creator/streamer. Now left with only two players on their roster, 100T made the tough decision to bench Ethan "Ethan" Arnold and sign players to accommodate Asuna. 
Taking advantage of their vacancies, 100T signed Sean "bang" Bezerra on a loan from TSM after he was benched and replaced. From the 100T bench, NRG was quick to sign Ethan, while 100T acquired community favorites Daniel "ddk" Kapadia and Sean "sgares" Gares as general manager and head coach respectively. Together, these two new signees carefully tried out and tested a multitude of players from different roles to supplement Asuna and bang. After a few short weeks, they signed on three new players that they felt would best facilitate 100T's success.
With their comedic group name aside, the roster was completed with the addition of William "Will" Cheng; Derrek "Derrek" Ha, and Brenden "stellar" McGrath.
The complete 100 Thieves roster and their roles is/are as follows:
Asuna (signed 10/02/2020) (Flex, transition from Duelist)

Will (signed 04/12/2022) (Duelist)

bang (loaned from TSM 02/21/2022) (Controller)

Derrek (signed 04/12/2022) (Flex, bought out from the Rise roster that beat 100T in NA LCQ)

stellar (signed 04/12/2022) (IGL [in-game leader])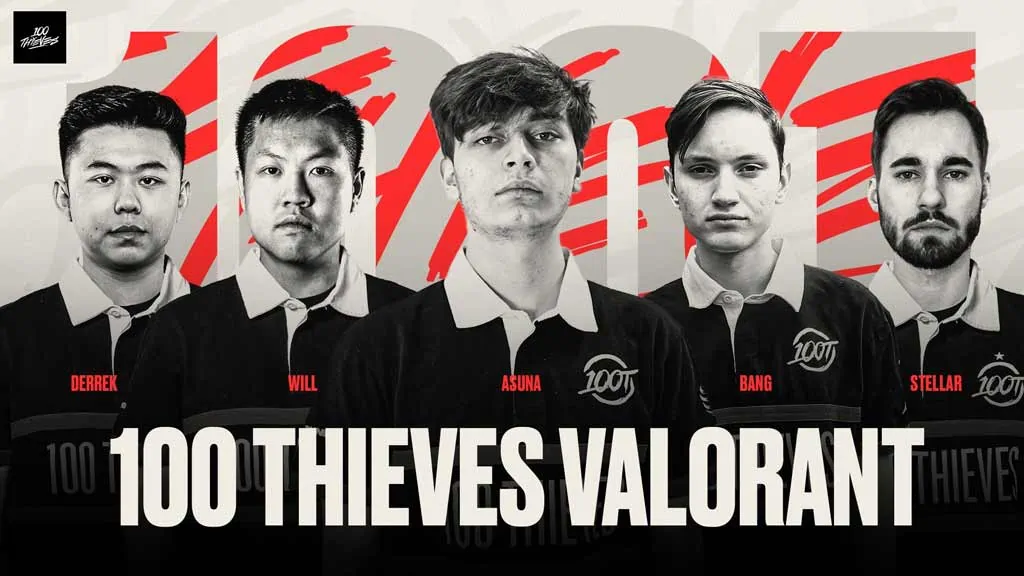 Open Qualifier 1 Shortcomings
Despite having a roster carefully crafted for success and built around functioning components with no role overlap, 100 Thieves had very little time to prepare for the first open qualifier of the 2022 VCT NA Stage 2 Challengers.
After just a few weeks of time to practice and develop chemistry, 100T debuted their new roster against TSM, one of the most prominent teams in eSports, who had, coincidentally, also rebuilt their roster just a few months earlier. As with most rebuilds, 100T fell short and lost their first match 2-1. Despite starting the matchup strong, and taking the opener 13-3 on Split, the Thieves fell short as TSM pulled off the come-from-behind victory. 
Now relegated to the losers' bracket, 100 Thieves matched up against Gen.G. Once again winning Split, 100T beat Gen.G 2-1, picking up Ascent after losing it to TSM 11-13.
Transitioning up the lower bracket, 100T 2-0'd Evil Geniuses in statement victory games on both Bind (13-6) and Split (13-8). Moving further along the bracket, 100T faced off against the Pittsburgh Knights, whom they narrowly beat 2-1 without playing Split.
With one match to go to secure a spot in VCT NA Stage 2 Challengers, a familiar face emerged. After losing to FaZe Clan in their Upper Bracket Final, TSM fell to the lower bracket for a chance to redeem themselves and secure their ticket to the NA VCT. Unfortunately for the new 100T roster, they did just that. While 100T managed to win Split for the third time, they once again dropped the following two matches and were sent home to return in the second round of qualifiers.
Read more about 100 Thieves' road to the LCS Spring Grand Finals here.
Open Qualifier 2 Triumph
With a few professional games under their belt, the new 100 Thieves roster had all they needed to succeed. Without TSM to stump them, the Thieves needed to win a minimum of three consecutive games in order to qualify for VCT NA Stage 2 Challengers.
With fans having mixed reactions towards the new roster, their opening match against the Soniqs hushed any doubters. Silencing their opponent 13-4 and 13-3, 100T secured an easy 2-0 victory without playing Split. Their next matchup, however, completely changed the dynamic. Despite winning every Split match they played up until this point, 100T were stomped 5-13 by the New York Fury. While this might leave viewers with the impression of an 0-2 loss, the Thieves rebounded to dominantly win Icebox (13-4) and Breeze (13-5).
With just one match to go, a 100T victory was well within sight. A loss, however, wouldn't put them out of contention entirely: they would have a second shot at qualifying like TSM did by falling to the lower bracket to face off against Sentinels. While a luxury indeed, this backup plan wouldn't matter as 100T slammed their opponents, Akrew, 2-0 with a 13-7 victory on Split and 13-1 on Breeze.
With their new roster thoroughly tested, the future is bright for 100 Thieves. While a spot on the international stage will be no easy task, 100T are in the big leagues and two spots are available if they can overcome NA's current powerhouses: Cloud9 Blue, OpTic Gaming, The Guard, and XSET. 
---
Join our Discord
to leave a question or comment regarding this article. We have sports fans talking betting all day — every day! JOIN THE DISCORD NOW AND QUALIFY FOR PRIZES & BETTING SWAG!
---